Practical experience: unlimited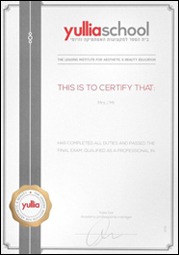 Course duration: 3 months, 65 hours
Certificate: International certificate of yullia school
Work: The outstanding graduates will be employed leading beauty treatment chain in Israel yullia with 12 branches
Gift: Course graduates receive a work kit from the leading brand "Proven by yullia" and uniform worth 1500 NIS
Nail services – manicure and pedicure – are the most popular and requested treatments in the menu of any beauty salon, and the demand for them is constantly growing. Women, men, adolescents – it is important for people of any gender and age to have beautiful, well-groomed hands and nails.
Needless to say, that skilled nail service professionals are required by every salon or studio. There are always workplaces for them and there is no risk of being left without income and out of business.
yullia is a beauty chain of 12 branches located all over Israel. Our beauty menu includes various treatments including nail service.
yullia school is an educational institution founded on the basis of yullia premium salons chain to train the best specialists in the beauty industry. Every student is a potential yullia chain employee, the best get job offers.
By the end of the course our students are ready to start their careers not only in terms of theoretical knowledge and practical skills: we provide you with a full set of professional tools that is included in the course price. Each successful graduate receives an internationally recognized certificate.
The course plan includes:
– the structure of the nail plate
– cuticle and pterygium: proper treatment
– types of nail shapes, nail shaping, nail filing
– professional tools' sterilization
– European (unedged) manicure
– classic (cutting) manicure
– atraumatic pedicure without the use of cutting tools
– aesthetic pedicure
– men's pedicure
– classic nail polish coating
– gel polish: coating and removal
– French design
– nail issues associated with medical conditions: diabetes mellitus, fungus, ingrown toenail, eczema, etc.
– tips for starting and running your own business in Israel (essek)
* Unlimited practice trainings on models is included in the course price
yullia school advantages are:
skilled coaches
13 fields of studies
flexible hours
a full set of necessary materials and equipment provided at the first lesson
unlimited practice trainings
course language choice
no age restrictions
internationally recognized certificates
employment for successful graduates