Practical experience: unlimited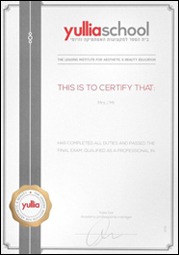 Course duration:1 day, 5 hours
Certificate: yullia school International Certificate
Gift: Students of the course receive a professional work kit worth 1000 shekels
Lamination (lift) technology is relatively new in the beauty industry. It came along with the global trend for natural, inartificial and healthy looks.  It's also known as semi-permanent styling.
The treatment makes your hairs look slightly longer, darker and more voluminous. In addition to this aesthetic effect the service also has a healing and strengthening action. There are no harsh chemicals in the lamination cocktail. Keratin, vitamins and pigment – this is the formula of the popular procedure.
Simplicity and safety, almost no side effects, minimum risks and medical contraindications – these are the advantages of the lash & brow lift service. Clients are not the only ones to benefit from the technology's excellence, the specialists also are. It's relatively easy to master the method and it doesn't require any special knowledge, permits or prior skills to become a professional.
Accuracy, advertency and neatness are the merits that make a perfect starter kit for the beginner. The team of yullia school will take care of all the rest!
Sign up for our "Lash Lift & Brow Lift" Course, and you will get not only the theoretical knowledge, but also a full set of professional tools and materials, and – which is even more important – practical skills.
There are no more than 6 students in each study group: we guarantee the individual approach and maximum attention to each of you.
The course plan includes:
(theory)
– professional tools kit – explanation (the kit is included in the course price and provided at the first lesson): materials, application features
– medical contraindications
– indications for the treatment (lash / brow types for best results)
– stages of lamination service
– eyelash curling technique: curl shaping
– brow lift
– demo session performed by the instructor on a model
– practicing acquired skills on models
– unlimited practice trainings on models
yullia school advantages are:
skilled coaches
13 fields of studies
flexible hours
a full set of necessary materials and equipment provided at the first lesson
unlimited practice trainings
course language choice
no age restrictions
internationally recognized certificates
employment for successful graduates