Practical experience: unlimited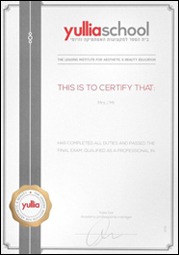 Course duration: 3 weeks, 15 hours
Certificate: International certificate of yullia school
Gift: Students of the course receive a professional work kit worth 1000 shekels
At yullia school, we train beauty industry professionals in the areas of the greatest demand, most popular with the clients.
We aim to help our students boost their careers from "zero" beginner to a practicing specialist.
The graduates complete their studies with an internationally recognized certificate, knowledge and skills that allow them to immediately get into a new profession and start earning money.
"Eyelash Extensions" course at yullia school is an intensive and full-fledged program that anyone can enroll in. A notebook, a pen, your good mood and strong desire is all that is required of you.
All the essential materials and tools for studies as well as models for practical lessons are provided by the School.
There are no more than 6 students in each study group: we guarantee the individual approach and maximum attention to each of you.
The course plan includes:
(theory)
– professional tools kit – explanation (the kit is included in the course price and provided at the first lesson): materials, application features
– medical contraindications to eyelash extensions
– before the treatment: getting eye and eyelids areas ready
– types of eyelash extensions – recommendations according to the shape and size of the client's eyes
– eyelash extension effects – recommendations according to the shape and size of the client's eyes
(practice)
– practicing acquired skills on a stencil
– practicing acquired skills on models
* Unlimited practice trainings on models is included in the course price, available by prior agreement
yullia school advantages are:
skilled coaches
13 fields of studies
flexible hours
a full set of necessary materials and equipment provided at the first lesson
unlimited practice trainings
course language choice
no age restrictions
internationally recognized certificates
employment for successful graduates