Practical experience: unlimited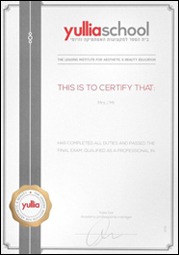 Course duration: 3 months, 65 hours
Certificate: International certificate of yullia school
Gift: Graduates of the course will receive a professional job kit worth 1050 shekels
Getting rid of unwanted hair is a highly demanded service popular with a huge number of clients all over the world.
Waxing is one of the simplest methods of depilation which does not require either high-tech equipment from the salon, or medical qualifications from the specialist. With the help of wax, you can remove hair from any part of the body, including all delicate areas. At the same time, it is one of the most effective, time-proven, trustworthy and safe techniques, which makes it the leading one on the beauty market.
Having mastered the expertise of waxing, you guarantee yourself a customer flow and a stable income for years to come.
Eyebrow shaping is another popular beauty treatment that women, men and teenagers undergo on a regular basis. The procedure can ensure a decent workload for a successful eyebrow artist. Both the classic eyebrow shaping with tweezers and the waxing technique are included in the program of "Waxing and eyebrow shaping" course at yullia school.
We teach students from the entry level; no special qualifications and experience are required from you to enroll in the program. The set of knowledge, skills and competence that you receive during your studies is 100% sufficient to become a practicing specialist after the graduation.
All the essential materials and tools for studies are provided by yullia school at the very first lesson and included in the course price.
The course plan includes:
(waxing)
– body waxing (all zones including intimate areas and face)
– distinctive features of hair growth and waxing for women, men and adolescents
– the specifics of applying wax in accordance with the direction of hair growth for painless and impeccable results
– ingrown hair prevention
(eyebrow shaping)
– typical eyebrow shapes
– eyebrow shaping with tweezers
– points of hair growth to determine the best eyebrow shape
– eyebrow waxing
– eyebrows and eyelashes painting
* Unlimited practice trainings on models is included in the course price, available by prior agreement
yullia school advantages are:
skilled coaches
13 fields of studies
flexible hours
a full set of necessary materials and equipment provided at the first lesson
unlimited practice trainings
course language choice
no age restrictions
internationally recognized certificates
employment for successful graduates