Practical experience: unlimited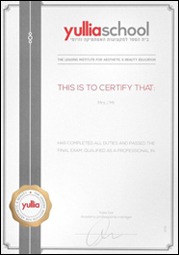 Course duration: 2 months, 27 hours
Certificate: yullia school International Certificate
Gift: Students of the course receive a work kit worth 4000 shekels
Almost everyone has heard of permanent makeup: it has been in cosmetologists' beauty menu for years and years. Nevertheless, it doesn't go out of fashion, just the opposite: it's gaining popularity.
Thereafter «Permanent Makeup» course is one of the most demanded at yullia school, although one of the most difficult and challenging.
Permanent makeup is a true art that requires not only artistic talent, but also careful compliance with hygiene standards and safety measures.
Obviously, the techniques used 10-15 years ago have little in common with the modern ones. Continuous improvement of tools and materials to achieve increasingly natural results of the procedure is one of the main reasons for its success. Properly and delicately emphasized facial features without the need to apply makeup daily – this is what attracts women all around the world.
To fully master the art of permanent makeup is a complex, sophisticated and ambitious goal that requires a lot of time, patience and diligence. However, all invested resources will pay off in full if the goal is achieved. This is an expensive beauty treatment and the money spent on the training will return to you after just 4-5 commercial sessions. So, it's definitely worth it, as you can see. Grateful clients, busy schedule and very decent salary – these are the rewards of a successful professional.
At yullia school we teach students from the entry level, no special qualifications and experience are required from you to enroll in the «Permanent Makeup» course. The set of knowledge, skills and competence that you receive during your studies is 100% sufficient to become a practicing specialist after the graduation.
All the essential materials and tools for studies are provided by the School at the very first lesson and included in the course price.
Unlimited practice trainings on models is a unique advantage of yullia school, which is of particular value for the students of «Permanent Makeup» course. You can hone your skills and perfect your expertise as long as you find it necessary.  You start your new career whenever you feel ready.
The course plan includes:
– Coloristic and color basics
– Medical contraindications to permanent makeup
– Eyebrows – various techniques: shading, feathering e t. c.
– Eyes – various techniques:  classic eyelid arrows, shading shadows e t. c.
– Lips – various techniques: ombre, watercolor ("lipstick"), lipliner e t. c.
– Healing period after the procedure, after-treatment care
– Fixing previous specialist's mistakes, old pigment overlap
-Client's permanent makeup service agreement, customer's card maintenance
– Practicing acquired skills on models
* Unlimited practice trainings on models is included in the course price, available by prior agreement
yullia school advantages are:
skilled coaches
13 fields of studies
flexible hours
a full set of necessary materials and equipment provided at the first lesson
unlimited practice trainings
course language choice
no age restrictions
internationally recognized certificates
employment for successful graduates